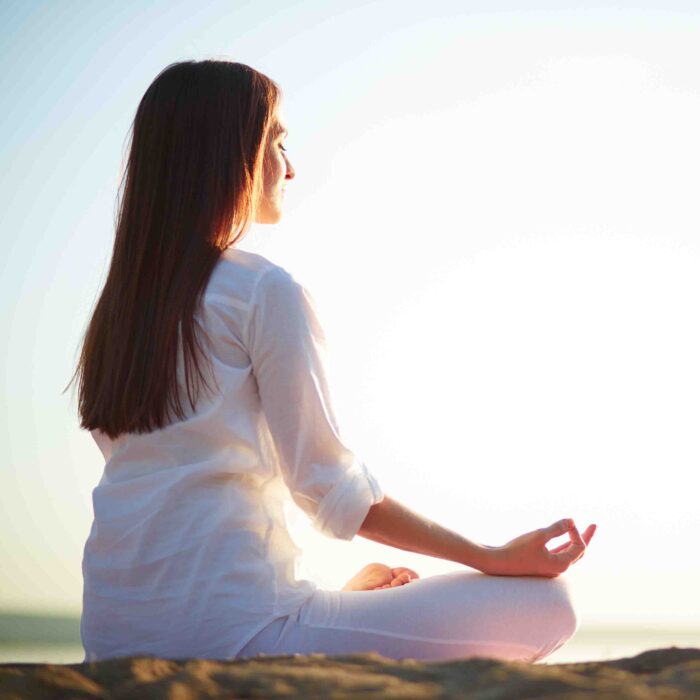 Vedanta Spiritual & Holistic Retreat is honored to announce its collaboration with one of the oldest Yoga institutes in India, and first Yoga colleges in the world. Kaivalyadhama has kept great integrity and purity in developing its work in the ancient Sciences of Yoga and Ayurveda since 1924. It has strived to study, share and teach Yoga as it was taught in the ancient world by Patanjali and his predecessors.
In the west, the popularity of Yoga has soared over the last two decades, giving rise to an industry of Yoga Instructors and Practitioners. Yoga has even become a part of the western medical system's dialogue about helping to heal the epidemic of diseases that we currently suffer from in the modern world. Due to this and other factors, Yoga is spreading into vast populations and the need for more advanced Instructors is upon us. This 2500 hour "Traditional Yoga Teacher" program (2500TYT) is an opportunity to live and learn these Yogic Sciences in an integral way. To be a guide on the path of Yoga one must first walk the path of Yoga oneself.
For as the Geeta's wisdom reminds "Yoga is the journey of the self, through the self, to the Self".
Therefor this training is not only for the earnest new teacher looking for a comprehensive Yoga training, but it is also very much for the pre-existing Instructor who feels the calling to dive much deeper into themselves and this highly intelligent system. The training is broken into 4 separate levels consisting of both on-line and on-site study, with time for self-study & practice in between. It is designed as a self-paced platform to meet personal time requirements. Until now, all on-site learning was offered in India. We are now offering Level 1 through 3 on-site at Vedanta Spiritual and Holistic Retreat, with visiting Kaivalyadhama teachers, for those who would like to do training in the USA. We are most excited to participate in and offer this Knowledge of the Science of Yoga here on our land at this time. We look forward to supporting you on your blessed journey.
Key Highlights of the Course
Level One A&B– TYT300
Level Two - TYT1700
Level Three - TYT2300
Level Four - TYT2500
Level One A&B– TYT300
Eligibility : Completed High school education ( Grade 12)
Medium of Instruction : English
Total Number of Hours : 300
Mode of delivery :
Level One A
• Online Videos on E Learning platform : 120 Hours (Self-Paced)
• Self-Study and Practice : 80 Hours
• Online Understanding Ayurveda : 100 Hours
Level One B
• On-site Practical Intensive : 100 Hours (Two weeks residential in USA or India)
• Regular assessments and guidance from teachers via email during E-Course.
Key Focus areas :
• Yoga
o Orientation to Philosophy of Yoga
o Introduction to Anatomy and Physiology of Human Body
o Learning basic Asanas, Pranayama, Kriyas and Mudras
o Understanding Meditation
o Overview of Yoga and Mental Health
o Yoga and Value Education
o Simple Teaching Methodologies
• Ayurveda
o Introduction & History of Ayurveda
o Disease and its manifestation
o Ayurvedic diagnostic methods & techniques
o Knowledge of Ayurvedic herbs
o Ayurveda and the Mind
Timelines & steps:
• One year to complete Online and Self Study Module Level One A
• On-site Practical Intensive (Two weeks residential in USA or India) and assessment Level One B
Certification:
• Yoga Instructor Certification by Kaivalyadhama
• Eligible for Yoga Instructor certification by the Yoga Certification Board of India (*Inquire for details)
• Eligible to work with confidence as a Yoga Instructor
Level Two - TYT1700
Level Three - TYT2300
Level Four - TYT2500
Dr. N. Ganesh Rao, with a Doctorate in Philosophy, is a Professor and Ph. D. Guide in Yoga and Philosophy. Dr. Rao has presented several Papers and written innumerable articles on various facets of Patanjali's Yoga Sutras and has delivered over 13500 yoga programs. He is the Technical Expert (Yoga) for Yoga Certification Board of India and Member of Board of Studies at Kaivalyadhama.
A first ranker at the diploma course in 1989 at Kaivalyadhama, Shilpa Joshi has been actively engaged in teaching Traditional Yogic Texts for more than 30 years. She has translated various spiritual texts and Swami Kuvalayananda's books on Asanas and Pranayama. After delivering several spiritual discourses, and extensive teaching, she has combined the scientific and spiritual aspect of yoga which reflects in her lectures on the yogic texts, like Gheranda Samhita, Hatha Yoga Pradipika, Psychodynamics of Yoga and Patanjali Yoga Sutras.
He is an Ayurvedacharya and has done his master's in counselling and Psychotherapy (M.S. con-psy). He has been working as a Principal I/C at Gordhandas Seksaria College of Yoga & Cultural Synthesis, Kaivalyadhama, Lonavala. Author of books, "Pranayama-mudra and meditation" and "Anatomy- Physiology of Yoga", Dr. Bhalekar has a unique blend of modern as well as traditional approaches to yoga in his teachings and writings. He has conducted profligate workshops at National and International conferences. He is one of the most popular teachers at Kaivalyadhama. He frequently travels to Singapore and other south-east Asian countries to teach.
Dr. Praseeda Menon is a Research Officer in psychology at the Scientific Research Department of, Kaivalyadhama. She completed her Ph.D. in Industrial Psychology from the University of Pune. Her work at Kaivalyadhama involves unearthing the potency of holistic methods of healing and well-being, especially, yoga, as well as, approaches from Buddhism, Ayurveda, etc. through inter-disciplinary scientific research. Additionally, she handles editorial and other publishing responsibilities of Kaivalyadhama's 91-year old research journal, Yoga Mīmāṃsā. She also teaches at the G. S. College of Yoga Cultural Synthesis, Kaivalyadhama, and is a member of its Board of Studies.
Lee Majewski has been in charge of the teaching methods at Kaivalyadhama. She also runs cancer rejuvenation and chronic cure programs around the world. Holds MA, DYEd, C-IAYT, and is the founding director and president of Yoga For Health Institute, a non-for-profit organization located in Toronto Canada. Her own journey through cancer bought home the value of ancient Yogic methods and techniques to facilitate self-empowerment and healing in her life. Lee is recognized internationally as an expert yoga therapist in cancer care and psychosomatic chronic diseases. She is passionate about sharing the healing value of Yoga and continues to advocate for Yoga Therapys place in healthcare and in the community worldwide. As a result of the programs effectiveness and being the first of its kind, Beyond Cancer has received an influx of international recognition. Lee focuses now on spreading her programs to all parts of the world. Apart from India the programs Beyond Cancer and Chronic Solutions are now offered in Australia, USA, Canada and Poland.
Dr. Sachin Jadhav is a post-graduate in Ayurveda. He has his own Ayurvedic clinic and hospital in Maharashtra, India, and has been practicing Ayurveda for the last fifteen years. The lectures in the course are mostly presented by him.
Practitioner and Ayurvedic consultant. Completed his Bachelors in Ayurvedic Medicine and Surgery from Maharashtra University of Health Sciences. Having good knowledge about Classical Kerala Ayurvedic medicine and Panchkarma, and also holds a certificate in Ashta Vaidyan tradition Kerala Panchkarma from Vaidyaratnam. He is your guide within the course, answering all your questions.
She is one of the senior-most teachers at Kaivalyadhama. She has nearly 40 years' experience in the field of Yoga. She has actively conducted workshops and training camps at national and international levels. Her programs on Pranayama have been highly successful globally and have benefited thousands of people. Her Pranayama online workshop has been a great success since June 2020. Her style of teaching is unique, with a simple and a practical approach. She was recently awarded with Swami Kuvalayananda Yoga Puraskar in year 2020 for her dedicated, committed and extraordinary service and contribution in field of Yoga. The award was bestowed to her by The Hon'ble Governor of Maharashtra, India.