May 28, 2020 6:00 pm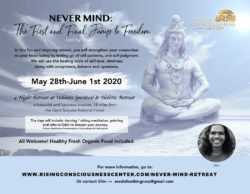 May 28 – June 1, 2020 
Life for a caterpillar in the chrysalis is merely the start of the journey. Traveling on your way during this workshop, you'll focus on the joy of your own transformation to come, and celebrate your colorful wings as you fly freely in the happiness of Being Never Mind.
In this fun and inspiring workshop, you'll strengthen your inner being by taking responsibility for yourself and letting go of any self-judgment. The permission to be who you truly are will arise from your own internal love, allowing you to attain freedom from self. What a unique opportunity to witness your deep growth. At the beginning of the workshop, you'll immediately feel the liberating results. And by the end of the four days, just like that butterfly, you'll experience a new way of being you.
Overview
The Never Mind workshop will inspire in you, self-responsibility and the permission within. Expect to have a great time! For starters, you'll all receive the name tag, "MYSTIC" to enjoy the sense of freedom from any identity of self. While you're here for the four days, you'll be encouraged to playfully experiment with yourself.
During the workshop, everyone is asked to not make eye contact or speak with people in or outside of the workshop. You can make eye contact with Shiv, but not speak to him. Any questions, feelings or thoughts you may have that you'd like to share with everyone you can write down and put in the Question Box. Shiv will address them during the evening talk session.
Healthful and delicious vegetarian, organic meals will be served. (Please let us know of any dietary restrictions.) The act of eating will be a meditation in itself, as you savor each bite and sip, fully taking in the aromas, flavors and textures, without indulging in thought.
If you haven't read Shiv's The Seed of Nothingness, yet, please do! It'll deepen your awareness of him and his teachings, and your experience at the workshop.
Program 
Dance Meditation Transformation ~ 7:00 – 8:00 a.m.
Dance Meditation Transformation is the result of Shiv's many years exploring mind, body and spirituality. The simplicity and joy of jumping, free-flow dancing and specific breathing will increase your self-awareness and connection with your higher self, leaving you in a state of Euphoric Realization.
To learn more about Dance Meditation Transformation, visit Dance Meditation Transformation
Breakfast ~ 8:30 – 9:30 a.m.
Resonance of Spirit ~ 10:15 – 11:15 a.m. (The mantra will change every day.)
Chanting together is very powerful, allowing you to surrender to the divine oneness of the universe. It is not only about repeating the mantra over and over, but also—and most importantly—receiving the meaning of the words. With right intention and realization, chanting transforms your being. Shiv will explain each mantra in terms of the essence of its meaning and the application to your day-to-day life. The chanting session ends with sitting or lying down and listening to high-vibrational music, enhancing your experience.
Inside the Chrysalis ~ 11:30 a.m. – 1:00 p.m.
This is the time for you to be alone out in nature at the river or in the forest, contemplating on your inner self.
Lunch ~ 1:00 – 2:00 p.m.
The Rising Lotus ~ 3:00 – 3:45 p.m.
Everyone will sit in silent meditation together with Shiv, to invoke the Buddha within.
The Joyous Buddha ~ 4:00 – 5:00 p.m.
Your creativity will soar in this session. You'll be painting from the heart without any goal, relying on feelings and your deep inner self.
Dinner ~ 5:30 – 6:30 p.m.
Talk with a Mystic ~ 7:00 – 8:00 p.m.
Shiv will discuss questions and comments from the Question Box, guiding you more deeply into the journey of Never Mind.
Celebration of Life ~ 8:00 – 8:30 p.m.
We will close with free-flow dancing, celebrating the joy we've experienced all day.
Before completing your application, you'll want to review the options for accommodation below. We have limited availability and will respond to all applications on a first-come-first-served basis.
All options include food and workshop attendance.
ACCOMODATION TYPE
"Jal" King Room Sleeps 2 (Couples) – $1500
"Jal" King Room Sleeps 1 – $1800
"Bhumi" Queen Room Sleeps 2 (Couples) – $1350
"Bhumi" Queen Room Sleeps 1 – $1420
"Vayu" Room 2 Twins XL (Sharing) – $1160
"Agni" Room 3 Twin XL (Sharing) – $1120
"Akash" Room 4 Twin XL (Sharing) – $1040
To reserve your spot for the Never Mind workshop, Visit Application Form for Never mind
We have limited availability and will respond to all applications on a first-come-first-served basis.
To Know more about Shiv, Visit About Shiv
For any questions regarding the Program kindly email seedofnothingness@gmail.com.
Categorised in:
This post was written by admin