September 4, 2019 12:00 am
Earth Module: Embodiment
September 4th to 12th 2019
Join Saul in California Hot Springs, California this September for this module of the Atma Yoga 200 Hour Teacher Training Program. The Atma Yoga Teacher Training program is Yoga Alliance certified and once you have completed the two modules and the additional requirements, you are eligible to apply for YA certification.
This module of the training develops a strong foundation, respect and understanding of Yoga, as a holistic, heart-centered practice that affects all levels of being. A sound knowledge of the basic principles, alignments and movements in the main postures, breathing techniques and Yogic process will be given; allowing the student to cultivate a deeper practice and experience of Yoga and how to guide others in that process.
There is an emphasis on coming home to our own body, mind, breath, and Spirit and grounding into a deeper connection and balance within oneself and the Universe.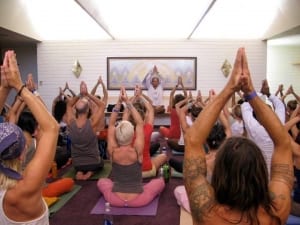 Topics to be Covered:
• Science of the Soul – Holistic Yoga model for peace and conscious evolution
• Dynamic Yoga – Asana, Kriya, Pranayama, Mudra, Bhanda
• Yogic breathing, essential postures & meditation tools for health & longevity
• Asana – Action, Alignment & Energy
• Power of Touch – Hands on adjustments
• The Wisdom of Life – an introduction to Ayurveda
• Basic Anatomy and Physiology
• Nada and Bhakti Yoga – Healing chants & mantras
• Sankalpa – the power of intention
• Sangha – support & importance of community
• Dharma – the root of Yoga
• Understanding Common Injuries & Alignment in postures
• Sacred Wisdom – the philosophy of Yoga, Tantra, Bhakti and Universal Love
• River of Yoga – understanding the history, flow and evolution of Yoga
• Props – how to effectively use props in a class
• Lunar Practice – Restorative Yoga / Yin Yoga
• Being an Earth Ambassador / Yoga's Essential Earth Activism
• Ritam Vinyasa – Holistic Healing yoga sequences
Acommodation Options:
Vedanta Spiritual retreat is a beautiful and secluded property in California Hot Springs on 240 acres. It has wonderful hiking trails, is 5 minutes from the Hot Springs and 30 minutes from the giant Sequoias. The center is built by yogi's and based on ancient Vastu with a harmonious and peaceful atmosphere. www.vshr.org
The cost of each module includes training, meals and accommodations.
• The main house is well appointed, comfortable and has high thread quality organic linens and each room has a private bathroom.
• The Glamping tents are also well appointed, comfortable and spacious. There is a bath house and toilet very close to the glamping tents.
• Double Occupancy w/ private bathroom in Main House – $2,100 (only 8 available)
• 3 or 4 Person Room w/ private bathroom – $1950 (only 4 available)
• Glamping Tent – $1900
• Tent Camping (Bring your own tent) – $1750
• Private room may be available, inquire for price.
Categorised in:
This post was written by admin