January 30, 2020 12:00 am
17 days and 16 nights
January 30th  to February 17th , 2020
Journey with us to Amazing India in 2020
Join Kristin English and Deepak Swarup on this journey through Maharashtra, taking in a cultural tour of two UNESCO World Heritage Temples, as well as a journey into the Bliss available through the ancient systems of Yoga and Ayurveda.  We welcome you to Bliss and Rejuvenation.
Our primary objective on this expedition is to experience the healing system of Ayurveda through an 11-day Panchakarma.  Panchakarma is a Sanskrit word that means "five actions" or "five treatments". This is a process used to clean the body of toxic materials left by disease, poor nutrition and environmental toxins. Normally the intelligent human body has the innate ability to efficiently process and remove waste materials, but modern life has inhibited our body's systems. Due to repeated dietary choices, environmental toxins, sedentary behavior, and an overall stressed induced lifestyle, our body's internal homeostasis becomes disorganized. This can lead to the accumulation and spread of toxins, or waste matter called ama in Ayurveda.  Panchakarma is not only for detoxification of the body, but also for rejuvenation at the cellular level — strengthening the immune system and restoring balance and well-being. It is one of the most effective healing modalities in Ayurvedic Medicine. It is recommended on a seasonal basis, as well as when an individual feels out of balance or is experiencing illness.
All-Level Yoga, Pranayama and Meditation practices will be infused throughout our experience together.  No experience is necessary to participate in the Yoga.  We will have local expert guides to take us through our cultural tour, we will stay in luxurious accommodations as well as partake in delicious Indian meals throughout our travel segment. Please review the sample itinerary below.  We will provide a more detailed itinerary in the Fall.
Fly to Mumbai on January 29th /Arriving on the 30th (Trip starts 30th evening)
31st Sight Seeing, Delicious Indian Meals and Shopping in Mumbai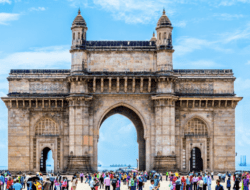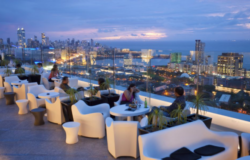 1st Feb Afternoon Flight to Aurangabad Overnight in Hotel
2nd Visit Ellora Caves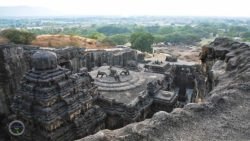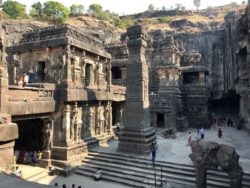 The Kailash temple is one of the largest Indian rock-cut ancient Hindu temples located in the Ellora Caves.  A megalith carved out of one single rock, it is considered one of the most remarkable cave temples in India because of its size, architecture and sculptural treatment. The Kailash Temple (Cave 16) is one of the 34 cave temples and monasteries known collectively as the Ellora Caves. Its construction is a great mystery. Please watch this documentary. https://www.youtube.com/watch?v=k1SE25mURhc, https://www.youtube.com/watch?v=_WypT8RPUxg
3rd February  Visit Ajanta Caves & Kailash Temple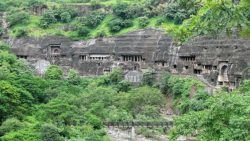 The Ajanta Caves are approximately 30, rock-cut,
Buddhist cave monuments which date from the 2nd century BCE to about 480 CE.
2rd Evening drive half way to Nasik, overnight in Hotel
with some amazing Temples and caves on the way.
4th Morning drive to Govardhan Eco Village.  Reaching in afternoon. Check-in and free time relax.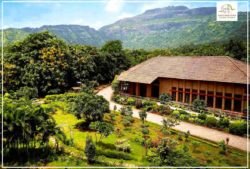 Ayurvedic Treatments/ Pancha Karma at
Govardhan Eco Village I Yoga Academy / Holistic and Spiritual Wellness I Ayurveda
February 4th – February 15th / 12 days and 11 nights with 3 dietary meals & prescribed treatments every day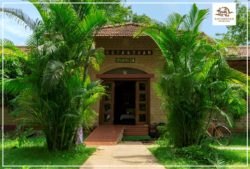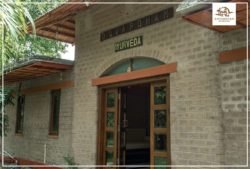 While we are at the award winning Govardhan Eco Village (GEV), we will prioritize our healing and have ample time for rest (per the Dr's instruction).  There will also be the opportunity to participate in Gentle/Restorative Yoga, Pranayama and Meditation classes with Kristin and Deepak, as well as walks and tours through the beautiful campus of GEV.  Each day various Vedic Rituals will be offered like – fire ceremony, Yagna, Kirtan and more.  To learn more about this wonderful healing center please visit: https://www.ecovillage.org.in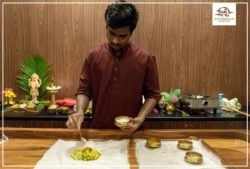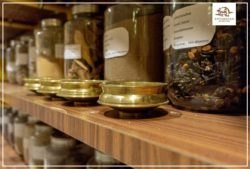 The Panchakarma treatments may include:
Abhyanga, Shiromardhanam (Head massage), Swedana ( Medicated steam), Podi kizhi (Powder pouch potali), Ela kizhi (Medicated leaf potali), Jambeera pinda sweda,Paada Mardhnam (Foot  massage), Njavara kizhi, Thakradhara, Shirodhara, Dhanyamla dhara,  Thalapothichil, Nasyam,  Ayurvedic Herbal Facial and 1 hour Personal Health Consultation with Prakruthi Analysis & Nadi pareeksha.
* Note: Treatments may vary according to the individual's state of health after consultation with the physician. Includes 10 therapies 60 mins each and some Lectures on Ayurveda and healthy living and All meals (vegetarian)-breakfast, lunch and dinner.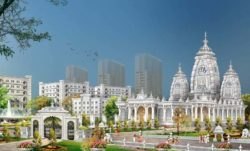 Artistic drawing of Hare Krishna Temple at Juhu Mumbai
February 15th travel to Mumbai where we will end our trip at
the historic Hare Krishna Temple in Juhu Mumbai
Wake up to amazing morning aarti at 4 am and enjoy this wonderful temple.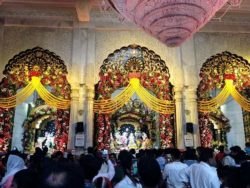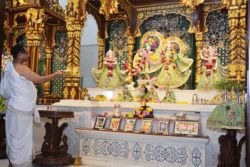 February 15th to 17th will be for enjoying sumptuous meals and last-minute shopping before flying home.  Most flights leave for the US just before or after midnight.  So, you can book your return flight after 10 pm on the 17th or 18th. *If you are interested in journeying on longer we can connect you to our travel agent.
PRICE (Including Ayurvedic Treatments)
$3800 Early Bird. Based on double occupancy. Deposit of $500 is due to hold your space.
$4200 Regular Price (After November 15th 2019).
Complete payment due by November 30th, 2019. Single occupancy prices are available upon request.
*Payment plan available upon request. To Register Contact Kristin English at kristin@vshr.org
The above prices include the following:
All group travel as stated. This includes all listed air and land travel during the Retreat. Any personally requested additional travel would be at your cost.
Shared Double Occupancy (Single Room Occupancy prices will be significantly higher and subject to availability… please inquire early).
All vegetarian meals are included (Breakfast, lunch and dinner)
While at most facilities, WiFi is included, be aware that we cannot guarantee its availability and quality.
Airport pick up and drop off in Mumbai.
What is NOT included:
Airfare/travel not specifically included above, including to/from your own starting and ending destinations, whether in the Americas, Europe, India or elsewhere.
Additional Ayurvedic Treatments beyond those prescribed for your Panchakarma, as well as Ayurvedic herbs and supplements you may want to purchase for long term use.
Additional costs you may incur as a result of taking this trip including but not limited to passports, visas and other incidentals.
Additional incidentals you may incur such as laundry, phone calls, internet, any foods or drinks not specifically covered above, or any items of a personal nature that are not expressly mentioned above.
Any meal outside of the group itinerary.
Any transportation not expressly included above.
Any additional expenditure not expressly covered above whether of an individual nature or voluntarily as part of a group.
YOUR GUIDES:
Deepak Swarup is a native of India and the founder of Vedanta Spiritual and Holistic Retreat Center in the Sierra Nevada: https://vshr.org
Kristin English is a certified yoga therapist under C-IAYT.  You can learn more about her at: https://knowtheself.net
Categorised in:
This post was written by admin